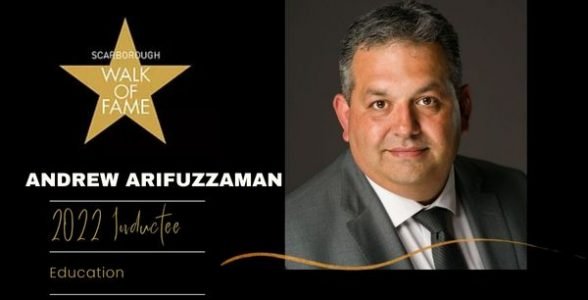 Over the past 25 years, Andrew Arifuzzaman has held progressively senior leadership roles across the academic and health sectors in some of Canada's most prestigious organizations. As chief administrative officer at the University of Toronto Scarborough (UTSC), he has spearheaded the development of the campus's strategic and master plans and brand strategy. Before joining the University of Toronto, he was a key leader in the merger to create the Centre for Addiction and Mental Health (CAMH).  Andrew is also active as board member for Toronto Pan AM Sports Centre Inc, the Scarborough Walk of Fame, Ontario Shores and serves as a strategic advisor for the Toronto Zoo and Youthlinks.
The retired senior director of wildlife and science emeritus at the Toronto Zoo, Andrew Lentini has turned his passion for wildlife into a 35-year career at the zoo, where he started as the very first zoo camp councillor. He was zookeeper for a number of years and spent the majority of time working with reptiles and amphibians. He is celebrated for leading conservation programs and for the critical protection of species at the Toronto Zoo.
Best known for his advocacy and health service to undocumented immigrants, Dr. Paul Caulford is a family doctor in Scarborough. He was the chief of family medicine and was the community services director at the Scarborough Hospital when the SARS epidemic hit Canada in 2003 and a respected critic of the health care system's inability to deal with the pandemic.  More than 40,000 patient visits have been made to the Canadian Centre for Refugee and Immigrant Health Care, which he co-founded with nurse Jennifer D'Andrad, Caulford is an assistant professor at the University of Toronto's Department of Family and Community Medicine.
Whether it's his stand-up comedy or much-loved television shows like Mr. Dee, this personable director, producer, writer and game show host consistently puts a smile on the face of an international audience. Born in Scarborough, he worked as a physical education teacher in real life after graduating from York University in kinesiology and obtaining his education degree at St. Franics Xavier University in Antigonish, Nova Scotia. He's had his own special on The Comedy Network, appeared in countless comedy festivals and placed third in the reality show, Last Comic Standing. He's known in sports circles for his comedic interviews of notables such as Wayne Gretzky and Cito Gaston.
Glenn De Baeremaeker's career has been stamped by his Scarborough home pure and simple. This 15-year municipal councillor (2005-2018; did not run again) was well-known for driving to find solutions large and small for the residents of his Ward 38.  From splash parks to tree planting to off-leash dog parks, Glenn fought to employ the vision of his residents. A committed environmentalist and advocate for animals, Glenn has advocated for, launched and supported numerous projects related to these endeavours. He has served as Deputy Mayor (Toronto East) and Speaker of Toronto Council.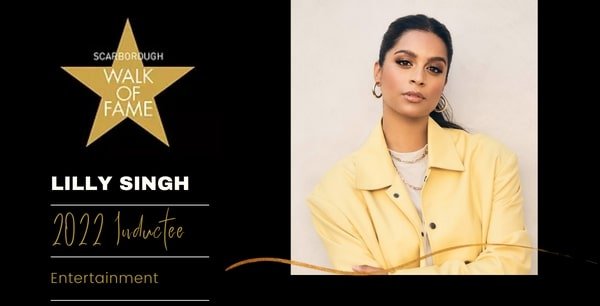 Photo credit Shayan Asgharnia

Scarborough-born Lilly Singh is an entertainer, actress, producer, creator and #1 New York Times bestselling author. Upcoming, Singh will lead the new Disney+ comedy series The Muppets Mayhem. Earlier this year, she starred in the DreamWorks Animation comedy The Bad Guys, which recorded global box office of over $230 million.  She is a judge on Canada's Got Talent. Singh's Unicorn Island Productions is developing projects across film and television. As part of their mission, she launched Lilly's Library, a book club to spotlight South Asian stories for everyone. Lilly is a UNICEF Goodwill Ambassador, where she's advocated for gender equity globally.
Scarborough-born Natalie Spooner has been a member of Canada's national hockey team program since 2007. Spooner is the first player to compete for the National Women's Team, the National Women's U-22 Team and the National Women's U-18 Team. Natalie, a forward, has three gold medals and a silver in Olympic competition, including a gold in the 2022 Beijing games. She has two gold among her eight world championship medals, including gold at Canada's memorable victory in 2021 while on home soil. Natalie expanded her competitive footprint with a second-place finish in The Amazing Race Canada teamed with Canadian hockey team teammate Meaghan Mikkelson and appeared on Battle of the Blades teamed with figure skater Andrew Poje.
"There lies a seed of opportunity in every adversity we face. We suffer to inspire." And it's work like that, which has helped Randell achieve the honour of Ontario's first Poet Laureate. Randell Adjei is an author, inspirational speaker, arts educator and community leader who uses the spoken word to empower and transform through what he calls – Edutainment. An early life full of challenges is now turned around and is serving as proof positive the ability to strive tor the powers within to enrich one's life. He is founder of the long-running youth enabling organization, R.I.S.E (Reaching Intelligent Souls Everywhere.)
Ronald Nelson is a visionary and leader who has played a critical role in popularizing, hip hop, reggae and dancehall music in Canada. He created Fantastic Voyage, Canada's first hop radio show in 1983. He brought Canada's first major rap concert featuring Run DMC and others, and with proceeds from that show built Canada's first hip hop recording studio in the basement of his Scarborough home. Bursting with creativity, Ron will release his first album, 40 Years Too Late, in September 2022.  His first single, Rap Music, was released in June.
It's been a proverbial rocket ride to the top for Scarborough-born CEO Shawn Allen. He has transformed the mortgage industry in short years with his company, Matrix Mortgage Global with 610% growth over the past 10 years and is the fastest growing mortgage brokerage in Canada according to the GROWTH 500 list. His company is also a five-time winner of broker of the year at the Canadian Mortgage Awards. A tremendous advocate for the Scarborough community, he also operates the Matrix Mortgage Cares Foundation and is active director of the Scarborough Business Association.
2018 Stars
Kardinal Offishall – Entertainment
Andy Donato – Arts & Culture
Ann Buller – Education
Bruce Kidd – Education
Domenic Primucci – Business
Jean Kennedy Campbell – Community
2015 Stars
Betty Carr – Community
Farley Flex – Entertainment
Dr. Sophie Hofstader – Health and Science
Mike Holmes – Entertainment
Cherie Piper – Sports
2013 Stars
Barenaked Ladies – Entertainment
Christine Bentley – Entertainment
Dwayne Morgan – Entertainment
Judie Oliver – Sports
Gerry Phillips – Politics
Scarborough Historical Society – Community
Monika Schnarre – Model
2011 Stars
Peter Appleyard – Entertainment
Dr. Vicki Bismilla – Education
Lawrence Gowan – Entertainment
Jay C. Hope – Community
Dr. Dhun Noria – Health and Science
Dr. Harold Stein – Health and Science
Ron Watson – Community
2009 Stars
Marilyn Denis – Entertainment
Dwayne De Rosario – Sports
Gordon Deval – Sports
Lois James – Environment
Debra McGrath – Entertainment
Don Montgomery – Community (awarded posthumously)
2008 Stars
Dr. Sheela Basrur – Health and Science
Earl Campbell – Education
Deborah Cox – Entertainment
Ben Heppner – Entertainment
Rick Middleton – Sports
John Wimbs – Community
2007 Stars
James Bamford – Community
Johnny Cowell – Arts and Culture
Dr. Ming-Tat Cheung – Community
Bob Hunter – Environment
Cindy Nicholas – Sports
Anson Taylor – Education
2006 Stars
Dr. Lloyd Carlsen – Health and Science
Dr. R. H. King – Education
Dr. Charles C. Macklin – Science
Jamaal Magloire – Sports
Doris McCarthy – Arts and Culture *new bio for McCarthy see below
David Onley – Community
Vicky Sunohara – Sports
David Thomson – Pioneer
Wes Williams – Entertainment
Dr. Joseph Y. K. Wong – Community
Des McAnuff – Entertainment