For the first time ever in Scarborough Walk of Fame history, the Rising Star Award will be given to young leaders who are empowering people in their community and beyond.
2018 Rising Star Inductees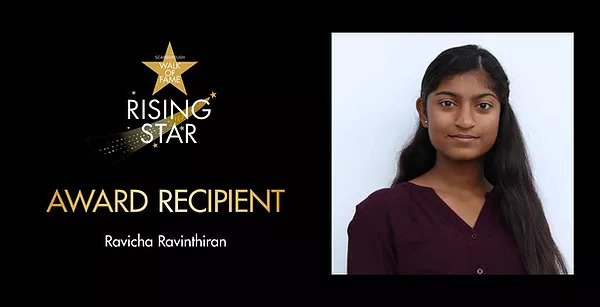 Dedicated to empowering girls and young women, Scarborough's own Ravicha Ravinthiran has had a meaningful impact on her community. Focusing on the wonders of science, technology, engineering and mathematics (STEM), Ravicha mentors countless girls and serves on numerous advisory committees and community youth initiatives. The Female EMpowerment Project (FEM), Ravicha's own grassroots initiative, helps young women from all socio-economic backgrounds to develop leadership skills and tools for personal and professional growth. Whether it's organizing a clothing drive for refugees, raising money for the Canadian Cancer Society, teaching girls about gender equality and consent or collecting pop can tabs for wheelchairs, Ravicha can be counted on to lend her time and effort.
Born HIV positive, Ashley Rose Murphy has overcome many barriers including mild cerebral palsy, Fetal Alcohol Syndrome, learning disability, stigma and discrimination to become the healthy young advocate she is today.
Ashley has spoken at WE Day events across Canada, addressed the UN general Assembly in New York and UNAIDS in Geneva. She is the recipient of the Terry Fox Humanitarian Award, the Queen's Young Leader Award and the Prince's Charities Global Leader award. She is a Global Ambassador for the Elizabeth Glaser Pediatric AIDS Foundation, Canadian Foundation for AIDS Research, a blogger for the Huffington Post and has appeared in countless magazines, newspapers and television programs.
Musician, author, advocate, and speaker, Delicia Raveenthrarajan has been decorated with the Governor General's Sovereign Volunteer Medal of Canada for her passions in youth mental health advocacy, sustainable international development, music education, and well-being in and through the arts. Delicia's work ranges across grass-roots facilitation, government advocacy, and presentations in collaboration with organizations, school boards, and educational institutes locally and globally. Through story-telling and community-engaged creation, she advocates for culturally responsive youth mental health care and awareness, stigma reduction, and anti-oppressive arts education practices.
University of Toronto, Scarborough graduate, Yasmin Rajabi is an engaged community leader. As a student, she managed the campus Tax Clinic, a free service that filed over 1200 returns and offered over 30 young people work experience. She also established the campus' first food bank. The program currently serves hundreds of students, staff and community members. As the Volunteer and Partnership Lead at Food Secure Canada's Youth Caucus Executive, Yasmin is dedicated to mobilizing young people and advancing the dialogue around food security issues across Canada. Through the Young Women's Leadership Network (YWLN), a non-profit she founded, Yasmin engages young women and girls in politics and civic issues and provides inspiration and empowerment.